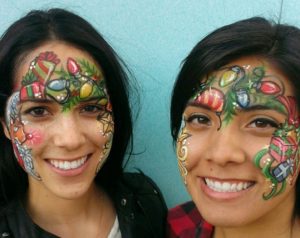 1. What are your rates?
Rates are based on location and number of hours of the event, and include a materials fee. Please view the Service page that corresponds with your type of event / appointment for more details. Then fill out the Contact Form on the Contact page to receive a direct quote. Birthday parties are booked with a 2 hour minimum and must be booked at least 4 weeks in advance.
Private appointments are also based on location and hours needed to complete the piece and include a materials fee. Preferably, must be booked 2 weeks in advance. Although, depending on the time of year, exceptions can be made. Also, depending on the subject matter requested, extra materials fees may be incurred. (ex: water proof makeup, prosthetics, etc.)
2. What designs do you offer?
For parties and events, I offer a variety of 5-8 minute designs. I can also work with any theme for your party to create custom faces. Take a look at my Gallery for some of my designs. For private appointments take a look at my Instagram or Facebook pages to see more examples of what I can do.
3. What kind of make-up do you use?
For parties & public events I only use water based, hypo-allergenic, non toxic theatrical make-up. Not only is it easy to remove with soap and water but is comfortable to wear on the skin for long periods of time without staining. Though, for private appointments, upon request, I may use some water proof make-up that are usually alcohol based.
4. Will you bring your own gear?
I will provide a chair for your guests to sit in and a small table for my make-up supplies. I can also bring an EZ-Up canopy / tent for shade, if needed. I can bring my own light source if need be, but I would need access to a power source. Notification of available light sources at the location would be much appreciated.
5. How do I pay?
Booking for: parties or custom services/ appointments:
When you fill out the Contact Form on the Contact page, I will respond within 48 hours with your quote. If you wish to
book me for your event, payment can be made either: online via PayPal and you will receive a confirmation email. There is also the option to make a cash or card payment, via PayPal, upon my arrival at your event. Personal checks are not acceptable.
For Festivals and Fairs or Corporate Events please contact me directly either by phone, 323.450.7631, or email at whitney@bodyartbywhitney.com
6.How far will you travel?
I will travel up to 40 miles outside the Van Nuys area of the San Fernando Valley, a $20 travel is included in your booking price. For events over 40 miles away a larger travel fee will be negotiated.
7.What kind of parties, events, appointments, festivals or celebrations are you available for?
I am available for: Anniversaries, Awards Nights, Baby/Bridal Showers, Banquets, Brand/Product Promotion, Bar Mitzvahs, Bat Mitzvahs, Birthday Parties, Private Services/Appointments, Children's Birthday Parties, Clubs, Community Events, Conventions, Corporate Functions, Country Clubs/Hotels, Custom Services/Appointments, Festivals and Fairs, Fund Raisers, Girl Scout Events, Boy Scout Events, Graduation Parties, Grand Openings, Holiday Parties for any and all holidays, Maternity Belly Painting, Music Festivals, Music Videos, Picnics, Photo Shoots, Proms/ Dances, Trade Shows, Religious Functions, Reunions, Weddings