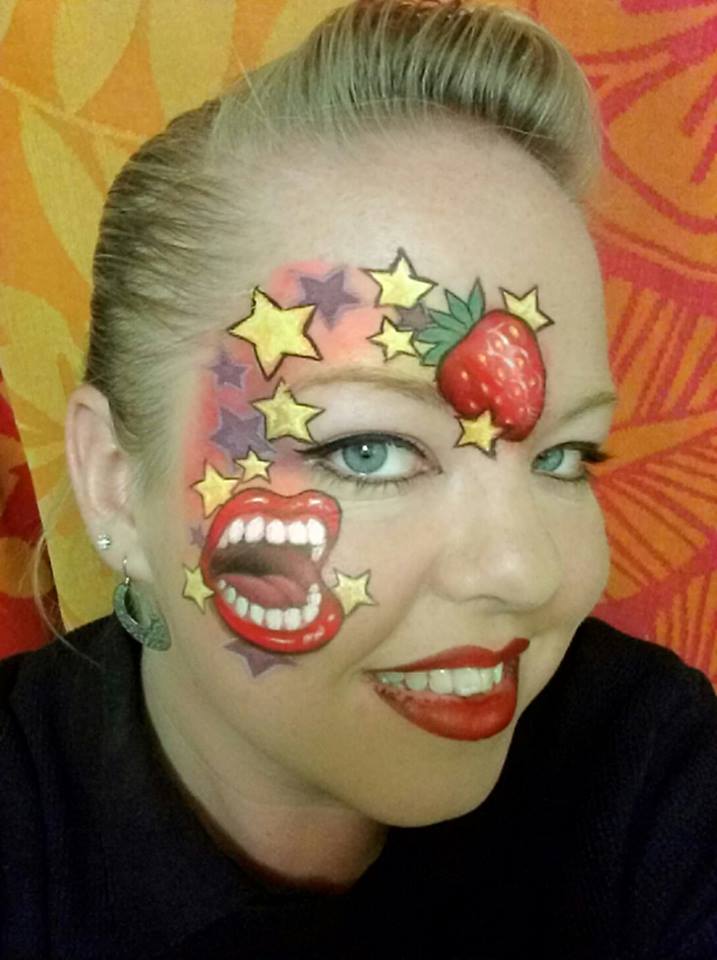 Hey there, I'm Whitney of Body Art by Whitney, and I'd like to personally thank you for checking out my website. Hope you enjoy it and I very much look forward to working with you.
I was born and raised in Los Angeles, California. Growing up, I was always artistic and into drawing and painting, with an affinity for make up. In school, I wanted to become a make-up artist for the movies, doing beauty and monster makeup. But in 2005, my Body & Face Painting career began with my first summer job, at a company called Enjoy Your Face Inc… and well I've been painting live canvases ever since! The company worked out of Universal Studios, and there I was able to hone my painting skills, partly through art classes, but mainly from having the opportunity to paint full time at a busy theme park. I'll always be grateful for the people and my days at EYF Inc., and all that practice time really was priceless. But in 2014, I left to do my own thing and train myself on the finer and more varied techniques of body painting. Sure I could've tried to become a movie Makeup Artist… but after Body Art, regular makeup was too boring! Plus there's SO much MORE I can do body and face painting. I also always loved seeing the clients faces after painting them and how excited they were to become their favorite hero or fantasy creature, even if it was just for the day.
However, my Body Positivity kick didn't start until 2012, when I made the steps toward my first goal: to become a healthier person. At the age of 25, I was 5'3, weighed 250 pounds, was toeing the diabetic line and had very low self-esteem. Weight loss was a roller coaster, but I lost 60 pounds in a year, put myself out there more. But I didn't really feel any better about myself and I realized I still had bad body image issues, and it was because I was getting hung up on societies definition of beauty, not my own. So I threw out any aspirations of looking like "Miss America" and started practicing loving myself and accepting my body as it was at that time, and it was the best thing I ever did. I've kept up the lifestyle change I started in 2012, as best I can – no ones perfect, and lost 30 more pounds and now I love my curvy body type to no end and the transformation into who I am now was amazing. Now, I want to bring that same sense wonder to all my clients, no matter what occasion, creature or being you want to transform into.
You can find me painting all over Los Angeles, no job is too big or small for me, be it at: public festivals, corporate or charity events, birthday or holiday parties, music videos or photo shoots and for custom appointments.
BODY POSITIVE ART FOR ALL!!!